March 14, 2016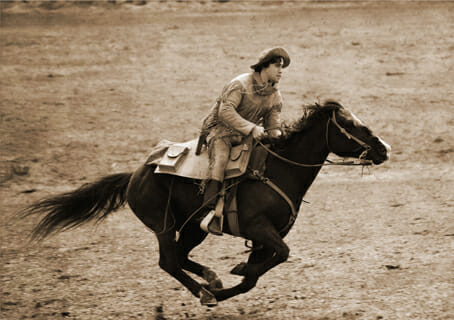 The Pony Express was founded by William H. Russell, William B. Waddell, and Alexander Majors. Plans for the Pony Express were spurred by the threat of the Civil War and the need for faster communication with the West. The Pony Express consisted of relays of men riding horses carrying saddlebags of mail across a 2000-mile trail.
The service opened officially on April 3, 1860, when riders left simultaneously from St. Joseph, Missouri, and Sacramento, California. The first westbound trip was made in 9 days and 23 hours and the eastbound journey in 11 days and 12 hours. The pony riders Annual Pony Express Re-Ride covered 250 miles in a 24-hour day.
Eventually, the Pony Express had more than 100 stations, 80 riders, and between 400 and 500 horses. The express route was extremely hazardous, but only one mail delivery was ever lost. The service lasted only 19 months until October 24, 1861, when the completion of the Pacific Telegraph line ended the need for its existence. Although California relied upon news from the Pony Express during the early days of the Civil War, the horse line was never a financial success, leading its founders to bankruptcy. However, the romantic drama surrounding the Pony Express has made it a part of the legend of the American West.
No event In American History has captured the imagination of young and old alike, more than the excitement created by those young riders and their horses, as they rode across the western half of our continent.
---
The documentary "1861: Spirit of the Pony Express" is now available on Amazon for $14.75
About: Centered around the history of the Pony Express itself, this documentary celebrates the institutions and personalities that keep that history alive today. The film is comprised largely of interviews of the people of St. Joseph, Missouri and others along the trail to California, who have dedicated their lives to teaching the history of that important time in the development of America.
The hope of this project is to communicate the importance of preserving our country's historic trails – The National Park Service has acknowledged these efforts and opened up a a huge window of opportunity; helping filmmakers follow the National Pony Express Association's cross country re-ride from Sacramento CA to St. Joseph MO in 2010 for the Sesquicentennial celebration of the historic institution.
Spending weeks on the original trail, the film crew stopped in various small towns along the way to find out what the history of the Pony Express means to the people there, and why they feel it is worth preserving. The goal of this documentary is to educate the world about the people and places that play an important part in shaping the history that surrounds us, and help inspire the generations to come.
---
Links
Pony Express Museum
Patee House Museum / Pony Express Headquarters