March 29, 2016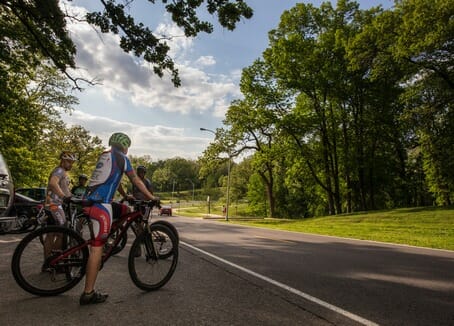 2-wheel adventures in St. Joseph, MO
by Patrick Evenson
I'm sitting in the new downtown coffee shop Paradox Coffee and Theater, drinking a smooth butter beer latte that coats my throat with the sweet lathering of butterscotch. Sitting at my coffee table are two long-time St. Joseph cyclists, Greg Goat and Emma Gossett.
Outside of the coffee shop is Emma's first generation Salsa Fargo touring bike with a mountain bike frame and a Surly ECR touring fork. Yes – she knows her bikes; they've taken her many places.
The thing that brings us all together today is bicycles. Actually, the really good coffee is what brought us to this particular location, but our bikes were the chosen mode of transportation and the topic of conversation, because that's how we make memories.
This group has been riding bikes together for two years now. We've had many bike adventures around the region, including every mile of St. Joseph, the surrounding country roads, and the 20 plus miles of mountain bike trails hundreds of times. We've had our crashes and successes. Through it all we've had great times that we can laugh and reminisce about.
That is probably the best description of what motivates riders to continually saddle their two-wheel metal steeds. "You can ride and see things from a different perspective, and discover new places," as Greg explains.

Few people know about the multiple locations to ride around St. Joseph. Whether a person prefers road or mountain bikes, it is almost is if the city was designed around the activity of cycling.
Quick history lesson time:
In 1918 architect George Burnap designed an intricate parkway system through what is now the heart of St. Joe. Almost a hundred years old, the 26-miles of green belt twists and turns as it climbs from Krug Park in the north to Hyde Park in the south. The Parkway system was actually one of the first in the nation to be designed, and is listed in the National Register of Historic Places.
For cyclists who love the road, the Parkway system is the first place I'd recommend. It's easily one of the best Saturday morning, springtime rides. Much of the system is hidden away from its urban surroundings. Though there might only be a couple layers of trees between the Parkway and city life, it's really the best place to relax after a long week.
The northern part of the city is where things get interesting, and where the fun begins for true mountain bikers. My coffee table crew is very familiar with the 22-miles of single-track trails that hug the edges of the northern Parkway. From relatively smooth trails around Corby Pond to the more technical trails of Krug Park and the Sunbridge Hills Conservation Area, St. Joe is incredibly fortunate to have this kind of cycling variety.
Although Horizon Cycling Club of St. Joseph maintains these trail systems, runners and hikers use them as well. There's always someone out there training for a Tough Mudder.
My fellow rider, Greg, was actually one of the people who carved out those trails in 2008. "Putting those trails in was a big change for the bike community, and awareness has grown in the past 10-years," he says while sipping his shot of espresso.
Every time I take my bike out I make some great new memories, whether it's discovering a place I had never seen before or running into a bike rider I'd never met. On the Sun Bridge trails over-looking the Missouri River, I once wandered into a long-forgotten park that the surrounding trees had reclaimed. On the Krug Park trails, a little more than two miles in, there's a waterfall where I took a break to snap a few nature photos. Along the short and easy Missouri River Walk, I regularly enjoy the reflective sunset as it turns to dusk.
I once rode around town all day with my DSLR camera.. I now have an album on Facebook with pictures of my bike in front of the Pony Express statue, on a hill overlooking City Hall, on the old cobblestone road upon Museum Hill, in front of the Missouri Theater…you get the idea.
After an hour of stimulating conversation, Greg, Emma, and I hopped on our bikes and rolled away from Paradox Coffee. Our hunger steered us to a spot that we frequent after long rides. Interestingly, but not uncommon, we walked in and saw a couple of other fellow bike-riders. We invited them to join us, and within seconds, our conversations of biking adventures renewed.
Plan your cycling adventure along the St. Joseph Parkway!
Photos courtesy Patrick Evenson, Coverage Photography.
Big Bam photos courtesy BigBamRide.com.
Categorized in: Posts, Sports & Recreation